Welcome to the sixth and final Summer Snapshot of 2022!
Published weekly during the summer to keep you up-to-date with all things CISV Jacksonville!
This issue will highlight all of our Delegations that have traveled this summer!
---
REGISTER FOR YOUTH, LEADER
& PARENT DEBRIEF

All leaders, delegates that traveled to CISV programs this summer, and their parents should attend the debrief.  We will discuss their summer experience, their suggestions for the future, and planning for the upcoming volunteer year.
Complete the experience survey here
---
OUR SUMMER 2022 DELEGATIONS
Village
"The community at camp was so amazing, and
I loved playing cards with everyone everyday.
Learning every countries' games was amazing!"
— Riya, Village Delegate
"I had a great experience at Village 100% of the time.
I learned that we're all different, but we're all the same."
– Alex, Village Delegate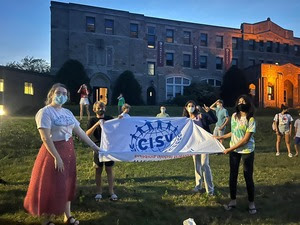 Greater Springfield, Massachusetts
Massachusetts Village Photo Album

Savoie, France
France Village Photo Album
Youth Meeting
"On the last night
we were listening to music at a bonfire
and we were all holding hands
looking at the stars and
wishing that it didn't have to end."
–Caroline, Youth Meeting Delegate on her favorite memory

San Francisco, California
San Fran YM Photo Album

Florence, Italy
Florence YM Photo Album
Interchange
"This year's interchange to Graz, Austria
is one of my favorite CISV experiences so far!
I loved making new friends from both chapters,
seeing the beautiful country of Austria, and
sharing our home and culture with the Graz delegates."
— Ian, Interchange delegate
"Having the chance to live with a wonderful family in Austria
and get immersed in their culture
was an experience I will never forget.
It was icing on the cake
to get to show my delegate
the same hospitality at home.
I made lifelong friends through the program
and look forward to doing it again next summer!"
— Casey, Interchange delegate
"The friends I made,
made this interchange an experience of a lifetime."
— Aria, Interchange delegate

Graz, Austria
Interchange Photo Album
Step Up
"Representing USA in Italy this summer with CISV Step Up
taught me more about cultural and global perspectives
and how I can relate to people my age all over the world."
— Tula, Step Up delegate
"This experience at Step Up made me appreciate
all that we have in the United States.
Personally, it was a life-changing dream. "
– – Luke, Step Up delegate
"How do I sum up a whole month in a few sentences?
The connections I made with the people in Denmark
will make a lasting impact on my life and
I hope to apply the lessons I learned in the coming years."
— Kate, Step Up delegate
"My step-up experience in Denmark was everything I could've asked for and more. I have so many amazing memories from step-up, but one of my favourites is the day of gala night! We made the camp video that day, which was a lot of fun to create, and everyone chipped in to pick flowers, clean, and get the campsite ready for Gala Night. We had s'mores, cards, snacks, dancing, and a great time overall!"
— Ava, Step Up delegate

Krakatau, Indonesia
Indonesia Step Up Photo Album

Reggio Emilia, Italy
Italy Step Up Photo Album

Fyn & Sydjylland, Denmark
Denmark Step Up Photo Album

Quito, Ecuador
Ecuador Step Up Photo Album
Junior Counselor
"Being a JC was such an incredible experience.
It was so much fun leading activities
with the other JCs, leaders, and staff,
and witnessing all of the children build global friendships,
making  memories to last a lifetime."
— Bella, Finland Village JC

Porvoo, Finland
Greater Springfield, Massachusetts
Fortnight

Washington, DC
Fortnight Photo Album
Seminar
"As always, my CISV camp was a phenomenal experience
and I am honored to have shared it with
such incredible people from around the world.
Never in my life have I become so close so fast
with a group of my peers and
being able to grow with them,
laugh with them, cry with them,
and just be with them
was a tremendous honor.
I wish the camp had been three times longer and
I will forever be grateful to CISV for giving me the opportunity
to learn so much about myself and the world we live in."  
– Tyler, Tennessee Seminar Delegate"I thoroughly enjoyed it.
The lack of preordained structure allows for real creativity
on the part of the participants, which I really appreciated."
– Nico, Belo Horizonte Brazil Seminar Delegate
Chattanooga, Tennessee
Malmo, Sweden
Campinas, Brazil
Belo Horizonte, Brazil
Isere, France
---
For more photos and news about CISV Jacksonville, follow us on Instagram and Facebook.
Don't forget to tag us in your posts!  We love to see what our members are doing.
Facebook    CISV Jacksonville
Instagram    CISVJax
Linked In CISV Jacksonville Chapter
---
Save these dates:
Upcoming events:
Sunday, Aug 14  –  Parent & Youth Debrief
from 3:30p-6:00p.
This is a mandatory event for all 2022 delegates and their parents.
RSVP Here
---
CALL TO PARENTS:  In August-September, we will feature CISV Jacksonville's graduating seniors. We want to make sure everyone is included.  Please send us a photo of your graduate.  It can be any photo:  CISV-related, graduation photo, etc.
SENIORS:  We are accepting senior quotes!  How has CISV impacted you as a person first and as a leader?
Please send pictures and quotes to cisvjax@gmail.com
---
That's all for us this week! We hope you enjoyed it!
If you have news you would like to share in a future issue, please
e-mail us at cisvjax@gmail.com. 
See you next week!
"How lucky I am to have something that
makes saying goodbyes so hard."
A.A. Milne
Want to help?
 Click 
here
 to view how you can help support
our Programs through tax-deductible cash or in-kind donations.
Forward this message to a friend