Welcome to the fifth Summer Snapshot of 2022!
Published weekly during the summer to keep you up-to-date with all things CISV Jacksonville!
This issue will highlight our Seminar Camp Delegates, our Graz Austria Interchange in Jacksonville, & Delegations currently traveling.
---
REGISTER FOR YOUTH, LEADER
& PARENT DEBRIEF

All leaders, delegates that traveled to CISV programs this summer, and their parents should attend the debrief.  We will discuss their summer experience, their suggestions for the future, and planning for the upcoming volunteer year.
---
SEMINAR CAMPS AROUND THE WORLD
Jacksonville is honored to have 5 youth selected from our chapter to represent the USA at seminar camps:
Chattanooga, Tennessee
Malmo, Sweden
Campinas, Brazil
Belo Horizonte, Brazil
Isere, France
Seminar camps are selected on a national basis from applications from
all 25 USA chapters.
Seminar camps are personally challenging, intensive programs coordinated by the 16-17 year-old participants. They develop their own agenda and explore global issues based on their backgrounds and interests through activities and in-depth discussions. Seminar Camps are for 30 international participants with the supervision of international adult staff.   Seminar Camp's group-living environment encourages participants to take a creative and cooperative approach to problem-solving and resolving differences that can arise from healthy discussion. Friendship and fun ensure that the Seminar Camp experience is lasting and positive.
---
Graz, Austria Interchange in Jacksonville
Our interchange delegation has been very busy exploring the Jacksonville area and experiencing our local culture.  The delegates and their host families have been to the beach, explored St. Augustine, attended the Austrian National Night, and were featured at the Jacksonville Jumbo Shrimp game during their first week here. This past weekend was spent with their host families on individual activities.  Volunteers from our chapter will host a mini-camp for the group this week.
Enjoy the Austria Interchange Photo Album
---
WHERE ARE OUR DELEGATIONS NOW?
Denmark Step Up
Ecuador Step Up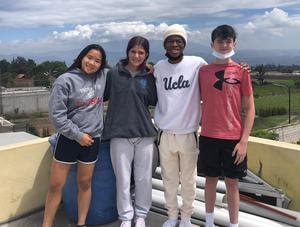 Italy Youth Meeting
---
WELCOME HOME
Village to France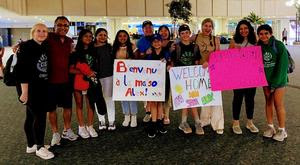 Step Up to Italy

---
In the next Summer Snapshot…
We will have updates on our campers' reactions to their summer experiences.
---
CISV is now on Linked In
Linked In acts as an outreach tool and will help us to recruit qualified leaders, keep our followers updated with our current happenings, and build our brand.
We invite you to follow our page and invite your contacts to follow us.
Linked In CISV Jacksonville Chapter
---
For more photos and news about current delegations as they travel, follow us on Instagram and Facebook.
Don't forget to tag us in your posts!  We love to see what our members are doing.
Facebook    CISV Jacksonville
Instagram    CISVJax
---
Save these dates:
Upcoming events:
Sunday, Aug 14  –  Parent & Youth Debrief
from 3:30p-6:00p.
This is a mandatory event for all 2022 delegates and their parents.
RSVP Here 
---
CALL TO PARENTS:  In August-September, we will feature CISV Jacksonville's graduating seniors. We want to make sure everyone is included.  Please send us a photo of your graduate.  It can be any photo:  CISV-related, graduation photo, etc.
SENIORS:  We are accepting senior quotes!  How has CISV impacted you as a person first and as a leader?
Please send pictures and quotes to cisvjax@gmail.com
---
That's all for us this week! We hope you enjoyed it!
If you have news you would like to share in a future issue, please
e-mail us at cisvjax@gmail.com. 
See you next week!
"The most important service to others is service to those who are not like yourself."
J. Irwin Miller
Want to help?
 Click 
here
 to view how you can help support
our Programs through tax-deductible cash or in-kind donations.
Forward this message to a friend