Southern Regional Minicamp (aka SRMC)
October 21 @ 7:00 pm

-

October 23 @ 11:00 am

$180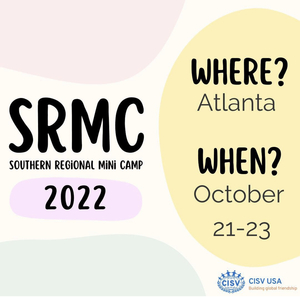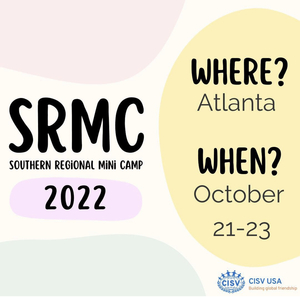 What is Mini Camp?
Mini Camp is an incredible weekend; jam-packed with fun CISV activities, top notch educational content, awesome people, energizers galore, and so much more! Our awesome group of junior leaders (with the help of their adult counterparts) are planning an amazing mini camp for you and other CISVers from the Southern Region.
Fun theme: TBD
Serious theme: TBD
Since many of the participants are from different towns, the minicamp will start with "name games" and other "getting to know you activities so don't worry about not knowing anyone when the camp begins. Saturday and Sunday will be full days with 4-5 activities surrounding this theme. Each activity will be followed by a "debrief" where we discuss our "attitudes, skills and knowledge" that have been changed or influenced by the activity. See the video below.
How do I register?
Registration will open in late August.
What is the registration deadline?
TBD
How much does it cost?
TBD
How do I pay the registration fee?
TBD
If you are interested in scholarship assistance for minicamp fees, please email cisvjaxtreasurer@gmail.com.
What are the ages?
Mini Camp is open to participants ages 10 to 21 and adult chaperones.
What is the SRMC location?
Atlanta
What Chapters are invited?
Atlanta, Chattanooga, Jacksonville, Miami, Smoky Mountain
What are the directions?
TBD
What should I bring?
• A snack to share. Don't bring snacks that need to be refrigerated
• Comfy clothes you can move in
• Dress for the weather! It will be hot.  Bring clothes for 3 days.
• Sleeping bag or sheets and blanket. Extra blanket if cool.
• Pillow
• Towels
• Shower shoes or flip flops
• Closed toe shoes/sneakers/running shoes
• Toiletries (toothbrush, toothpaste, soap, deodorant, etc.)
• Sunscreen and bug spray
• Reusable water bottle
• Flashlight
• Raincoat
• A smile!
DO NOT BRING A CELL PHONE.  WE WILL TAKE YOUR CHILD'S CELL PHONE AND PUT IT IN A LOCKED CAR DURING CAMP. CISV IS NOT RESPONSIBLE FOR LOSS OR DAMAGE TO CELL PHONES.
What are other issues to know?
• Arrival should be between 7-9pm on Friday night.  We will arrange carpools or a vans to Atlanta
• Departure: We will leave the camp around 10:30 am on Sunday
• Meals will be provided from Saturday breakfast to Sunday breakfast. Send spending money for dinner on Friday night and lunch on Sunday.
• Camp T-shirts are included in the registration fee
What are CISV's behavior guidelines?
Please read the R-07 Behavior Policy at www.cisv.org/assets/R-07_Behaviour_Policy
Questions before camp?
Just e-mail us. We are happy to help.
Who is planning activities at the camp?
The Junior Branch Presidents (aka local jr. representatives) of the CISV Chapters attending the camp are planning the activities.
Questions during camp?
Adult chaperones will be present. S
See a vintage video about what happens at a minicamp here.